Join the Team by making a secured donation:
The Physician, The Writer, The Minister, The Entrepreneur, The Evangelist and The Mother
Dr. Yvonne Scott Miller, MD, Pastor, Servant

One Lord Teaching Ministry, Founder
Board Certified Obstetrician and Gynecologist
Licensed and Ordained Minister of the Gospel
Isaiah 50:4 (KJV) The Lord GOD hath given me the tongue of the learned, that I should know how to speak a word in season to him that is weary: he wakeneth morning by morning, he wakeneth mine ear to hear as the learned.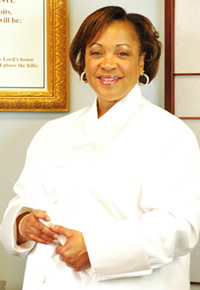 The Testimony
Dr. Yvonne Scott Miller is a Born Again Christian whose personal testimony is, "I was baptized in water at the age of 7 unto Salvation. I was baptized by the Holy Spirt at the age of 47 unto Power and Good Works."
The Call
In obedience to JEHOVAH God, on August 4, 2008, Dr. Yvonne Scott Miller accepted her call into the Ministry of Jesus Christ. On August 5, 2008, God birth into her spirit One Lord Teaching Ministry with Ephesians 4: 5-6. It was at the altar of New Harvest Baptist Church, Pastor Dwight Perry, Sr., that the call and the Ministry was established in heaven on August 8, 2008. God quickly followed the call with His mandate for her to build the JEHOVAH SHAMMAH Dome in Lawrenceville, GA. His mandate came on September 21, 2008 after repeatedly presenting to her Isaiah 2: 1-3 and Micah 4: 1-2. Once again, Dr. Yvonne Scott Miller said, "I will." She would be licensed on October 13, 2008 by her father, the late Rev. Lenzo V. Scott, Pastor of Ellen Burr Baptist Church, Leesville, LA. With the Holy Spirit as her theological professor, Dr. Scott Miller's preaching brings New Revelation to the Word of God
The Family
She grew up under the Anointing of Educators and Servants of God: Pastor Emeritus Lenzo V. Scott and Wilma Lee Scott in the small town of De Ridder, LA. Both parents have now moved from earth to glory. She is the second of six daughters born to this union. They are Minister, Dr. Lori V. Hunt, Mrs. Lydia V. Stewart, Minister Letrece V. Harris, Mrs. Lisa Broussard and Mrs. Yolanda L. Johnson. She is the divorced mother of three God Loving and God Serving children: Sarah Elisabeth Miller, Calvin Maurice Miller Jr. and Cameron Vonne Miller.
The Education
Dr. Yvonne Scott Miller is a 1978 Valedictorian Graduate of De Ridder High School in De Ridder, LA. She is the 1981 Cum Laude Graduate of Mc Neese State University in Lake Charles, LA. From December, 1981 until May, 1982 she worked as a Math Teacher at Leesville High School in Leesville, LA. In June, 1982 she enrolled in Medical School and in 1986 Graduated from Louisiana State University School of Medicine in New Orleans, LA. She is a 1990 Graduate of Emory University School of Medicine Residency program in Obstetrics and Gynecology. On December 11, 1992, Dr. Scott-Miller became Board Certified by the American College of Obstetrics and Gynecology.
The Military History
On June 4, 1993, the Department of the Air Force Awarded Dr. Yvonne Scott Miller the Air Force Commendation Medal for Services Performed August 5, 1990 - May 30, 1993. She proudly served our country from 1988 to 1996 and was Honorable Discharge as Major on March 15, 1996.
The Physician
Her Private Medical Practice began in July, 1993 in the city of Lawrenceville, GA were she continues to serve the women of the region. She is the CEO of the busy Lawrenceville Gynecology of which Dr. Yvonne Scott Miller Weight Loss Center is a vital component. Her Private Practice is currently located in Snellville, GA. She has been an Active Staff Member of Gwinnett Hospital Systems since 1993. The Doctor has been recognized in publications such as Essence Magazine and The Atlanta Tribune. She can be seen worldwide on multiple segments of "Doctor to Doctor" on the Trinity Broadcasting Network airing 12:30 noon EST on Tuesdays. Her sermons are aired locally on WATC-57 in Atlanta, GA.
The Entrepreneur
In addition to operating a busy Medical Practice, Dr. Scott Miller also opened and operated: Calvin's Salon and Spa for Men, Sarah's Salon and Spa and Cameron's Laser and Weight Loss Season. All three business operated for a season of two years until she closed them all on the same day.
History of One Lord Teaching Ministry
THE WORKS OF ONE LORD TEACHING MINISTRY began on April 4, 2009 with the first "Holy Spirit Community Revival" hosted at the Aurora Theatre in Downtown Lawrenceville, GA. It was there, with an audience of about 100, that Dr. Scott Miller presented her first two initial sermons. In May, 2009 she began hosting Sunday Morning Worship Services in her Lawrenceville home. These services were later moved to her office from June, 2009 until December, 2009. From December, 2009 until February, 2010, One Lord Teaching Ministry Worship Services were held in a building in Suwanee, GA. On March 11, 2010, after the September 16, 2009 and February 24, 2010 passing of her parents, God said, "Shut it down." She distributed the assets of the Ministry and entered into a five year "Desert Season" for Spiritual and Physical Recover. In obedience to God, One Lord Teaching Ministry Worship services were resurrected for a short season from November, 2011 until February, 2012. God wanted two sermons recorded for future WATC-57 airing. These prophetic sermons were, "Map to Eden" and "Marriage God's Way." These sermons would air on WATC-57 in August, 2011 and December, 2012. During this season God would keep her encouraged by allowing her to Minister at two Revivals and two Women's Retreats. Her "Rest" was accomplished at Hopewell N.E. Baptist Church, Grayson, GA under the loving arms of Pastors Gerard and Veta Blanding. It was there she completed the twelve week Seminary course, "Bible Doctrine."

ONE LORD HOUSE OF WORSHIP was established on October 4, 2015. She would become the "Gathering Arm" of One Lord Teaching Ministry. Bishop Ernestine Davis, Pastor of Love and Liberty Community Church of Lawrenceville, GA and her team of Intercessors were present at the initial Service to speak Blessings over Pastor Yvonne and the Ministry. One Lord House of Worship was established by the words of Galatians 3:28. It is established to create a "Free Place" for "All" to Worship JEHOVAH God in "Spirit and Truth." Pastor Yvonne was Ordained for Service by Bishop Ernestine Davis, Pastor of Love and Liberty Community Church and the Clergy of Dominion Covenant Fellowship International on December 20, 2015. Currently One Lord Teaching Ministry operates as One Lord Community Church in Snellville, GA. This Community Church hosts Saturday Night Worship Services three Saturdays per month.
The Author and Evangelist
Under the inspiration of the Holy Spirit, she has authored and self-published three Christian publications: 64 Frequently Asked Questions by Christians, One Lord Teaching Ministry Series: Book 1 Your Anointing and No More Religion: The Second Malachi.Her sermons can be viewed on YouTube @ Dr. Yvonne Scott Miller.
Dr. Yvonne Scott Miller entertains all invitation to share the gospel with the world. All invitations are submitted to the Holy Spirit for approval prior to acceptance. Please contact her at yvonne1131@comcast.net or by calling her office @ 770-682-9002. Amen