JEHOVAH SHAMMAH DOME
"House of Prayer for all People"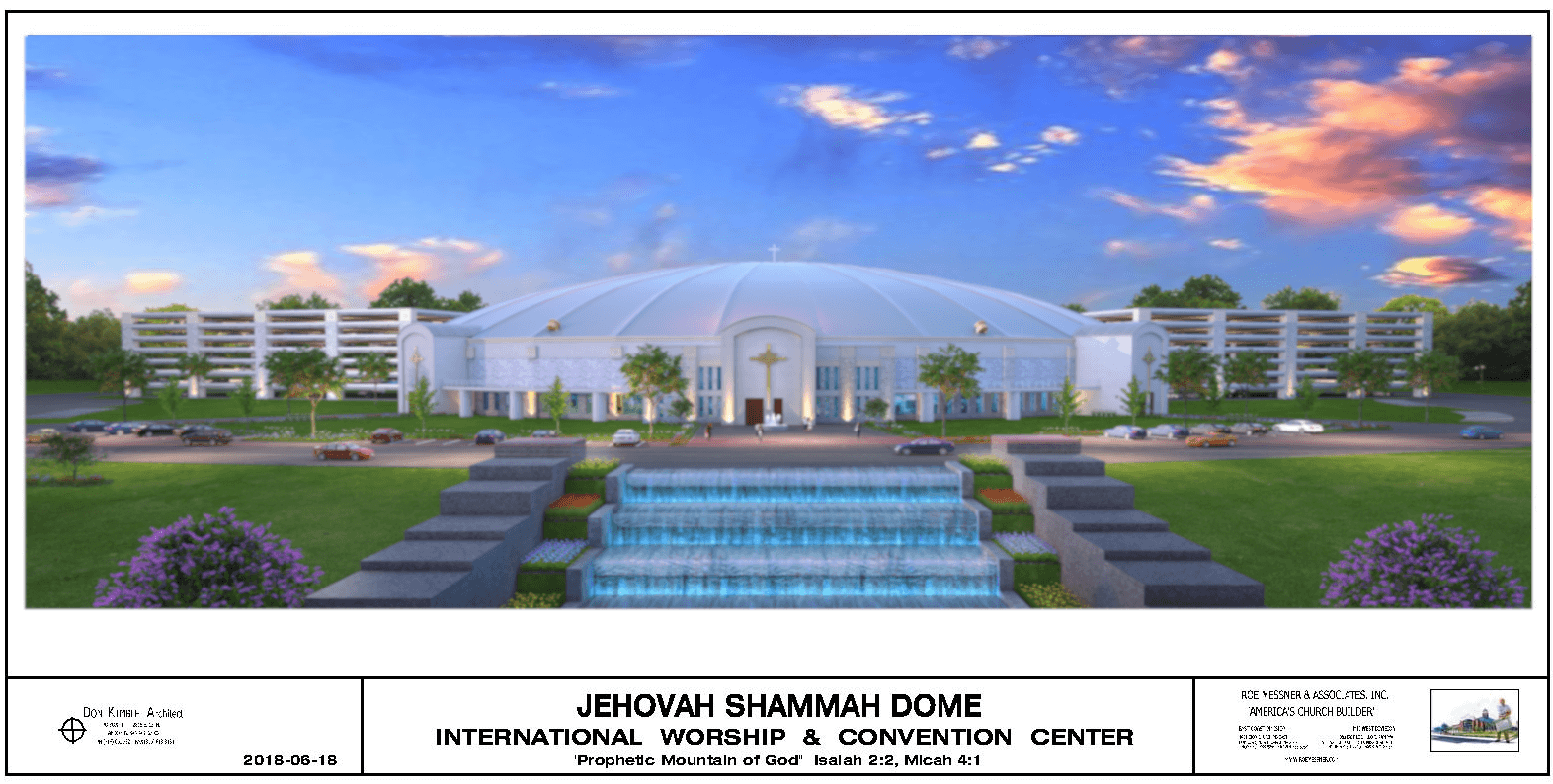 Features of the JEHOVAH Shammah Dome
"House of Prayer for all People"
| | |
| --- | --- |
| Art From the Nations on the Grounds | Art From the Nations on Three Levels of Dome |
| 18,000 Seat Auditorium | Three Altar Auditorium facing the East |
| Stationary Baptismal Pool | Under Stage 10 Communion Tables |
| Three Levels Seating | Every Seat with Direct Access to the Altar |
| Garden of Eden | Garden of Gethsemane |
| International HELP Center | Security is Priority |
JEHOVAH Shammah Dome
"House of Prayer for all People."
Mission Statement
(Matthew 22:37-39)
Love and Honor The Creator
37. Jesus said unto him, Thou shalt love the Lord thy God with all thy heart, and with all thy soul, and with all thy mind.
38This is the first and great commandment.
Love His Human Creations
39And the second is like unto it, Thou shalt love thy neighbour as thyself.
---
JEHOVAH Shammah Dome
"House of Prayer for all People."
Vision Statement
(Isaiah 2:2-4)
Unite the Nations
2And it shall come to pass in the last days, that the mountain of the LORD's house shall be established in the top of the mountains, and shall be exalted above the hills; and all nations shall flow unto it.
Teach the Nations
3And many people shall go and say, Come ye, and let us go up to the mountain of the LORD, to the house of the God of Jacob; and he will teach us of his ways, and we will walk in his paths: for out of Zion shall go forth the law, and the word of the LORD from Jerusalem.
Bring Peace to the Nations
4And he shall judge among the nations, and shall rebuke many people: and they shall beat their swords into plowshares, and their spears into pruninghooks: nation shall not lift up sword against nation, neither shall they learn war any more.
---
What will make the JEHOVAH Shammah Dome a "House of Prayer for all People?"
Every Nation that is a Member of the United Nations will be asked to submit their Original "Tribute to JEHOVAH" In Art Form.
Each Tribute will be appropriately displayed Inside the Dome and on the Dome Park Grounds.
Nations who are not a member of the United Nations who contact us may also submit their "Tribute to JEHOVAH" in Art Form.
The 193 Flags of the United Nations and the Flags of other Contributing Nation will Fly on the Perimeter of the Dome Park Grounds.
The 18,000 Seat Auditorium will be available for National and International Conferences and other events.
Worship inside the 18,000 Seat Auditorium will be open to people of all Nations, Races, Religions and Economic Backgrounds.
The Missions and Ministries housed in the HELPS Center will have both a National as well as International Vision.
---
Inclusion Statement:
The JEHOVAH Shammah Dome is NOT a Religious Facility. The JEHOVAH Shammah Dome is a "House of Prayer for all People."

Please read: Isaiah 2:2-3, 60:11, 60:7, 11:12, 27:12, 54:7, 42:6 and 56:8.



Is the JEHOVAH Shammah Dome only "Old Testament Prophecy?"

No. In Matthew 21:13, Jesus references Isaiah 56:8 when he says: "My house shall be called the house of prayer, but ye have made it a den of thieves."

Also read Mark 11:17, John 10:16, Romans 12:1-5, Ephes 2:13-22 as well as Ephes 4:4-6.
---
The Vision Overview
How Does the Dome Look?
On June 8, 2010, God allowed me to see the completed JEHOVAH Shammah Dome for the first time in a Vision. The Dome will sit on the top of the hill to the right. The JEHOVAH Shammah Dome is solid white except the doors. The Dome roof is a smooth white shinny reflective material with a textured pattern. The walls are a white concrete or stucco material. (1 Kings 6:7) I saw no windows to the Dome, only doors.
The JEHOVAH SHAMMAH DOME was Tall, Strong, Simple but Majestic. It astounded me! Each time I see it in my mind's eye, "I smile."
Click on the links below for more details:
The Outside
The Lobby
The Sanctuary
The Altar of God
The HELP Center
Who will Minister in the Dome?
The Lord God JEHOVAH will be Reverenced in the Dome. The Word of God will go forth by different : Apostles, Prophets, Evangelist, Pastors and Teachers.
Worship will be Conducted by those Anointed with the gifts of Exhortation, Song, Music and Dance. (Romans 12: 4-8)
The JEHOVAH Shammah Dome will also host Christian Concerts, Christian Based Seminars and Christian Based Community Events.
The JEHOVAH Shammah Dome is not a One Man or One Women CHURCH. The One Lord Teaching Ministry is the facilitator of the Vision. We are there to see that the Vision goes forth and to Teach. We will remain there to maintain the Dome until it is replaced by The New
Jerusalem.
Who will Worship in the Dome?
All are Welcome in the Dome.
Galatians 3: 28: There is neither Jew nor Greek, there is neither bond nor free, there is neither male nor female: for ye are all one in Christ Jesus.
When will the Vision Become a Reality?
Ezekiel 12: 24-25
24. For there shall be no more any vain vision nor flattering divination within the house of Israel.
25. For I am the Lord: I will speak, and the word that I shall speak shall come to pass; it shall be no more prolonged: for in your days, O rebellious house, will I say the word, and will perform it, saith the Lord God.
Will the Dome be Completed in My Lifetime?
Habakkuk 2:5
5. Behold ye among the heathern, and regard, and wonder marvelously; for I will do a work in your days which ye will not believe, though it be told you. (Given to me 12-9-7 and 6-4-8)
Cost of the JEHOVAH Shammah Dome
World Changers Church International in College Park, Georgia was completed December 24, 1995 at a cost of $20 Million Dollars. The project was completed without any bank financing and Paid For at Dedication. The World changers Church International seats 8,500 worshipers.
In January 3, 1962, the ground was broken for the Astrodome in Houston, Texas. The Dome was completed April 9, 1965. The price of construction of this 62,439-seat facility was $35 Million United States Dollars.
Bishop David Oyedepo is Pastor and founder of Winners Chapel (Faith-Tabernacle) in Lagos, Nigeria. Winners Chapel (Faith-Tabernacle) in Lagos, Nigeria seats 50,000 on the inside and an additional 250,000 on the outside. This Mega Church was constructed in 1998 in less than one year. Nigerians paid for the 50,000-seat facility in Cash. I welcome you to view the church facility @ www.davidoyedepoministries.org.
On the morning of October 30, 2008, the Holy Spirit asked me this question. "How much money has Dr. Yvonne Scott, OB/GYN, P.C. deposited," (and spent I added), "from the period of July, 1993 until October 29, 2008?" The answer was, "Approximately $18 Million United States Dollars." Then the Holy Spirit said, "Double it according to My Word." (2 Kings 2:9) The number came to $36,000,000.00 United States Dollars. The Holy Spirit then said, "That will do."
Holy Spirit Project Cost Projections
Phase 1:
14 Acre Land Purchase
$2,500,000.00
Phase 2:
Planning and Development
$360,000.00 (1%)
Phase 3:
Construction
$36,000,000.00
Phase 4:
Furniture & Fixtures
$3,600.000.00 (10%)
+ Art from the Nations
Total Projected Cost:
$42,460,000.00
Furnisher and Fixtures
An additional $3,600,000.00 (tithe) will be required for Furnishers and Fixtures not related to Construction of the physical plant.
Planning and Development
Who will Design the Dome?
Designs would be submitted to me personally. The Design that matches the Vision given to me by the Lord will be selected. The design and the designer will be featured on a LARGE sign that will be placed on the land when it is purchased.
The previous church designs of Frandsen Architects, P.C. in Lawrenceville, GA have been reviewed and are respected by this Ministry.
Who will Build the JEHOVAH Shammah Dome?
The principal Contractor on the project will be Metal Building Associates, Inc. of Suwannee, GA. God gave me their assignment on July 3, 2007 via an early morning e-mail. I had never met or heard of Mr. Greg Thigpen prior to that date. I got his personal cell phone from another physician. He was on the beach in Florida with his family when I called. I told him, "God said that you are going to build our church." He responded, "O.K." We met one week later at a church in Suwannee, GA he had just completed. He later told his father, (I call him Daddy Thigpen), "I've been recommended by a lot of folks, but that was the first time I was recommended by God."
God has also placed me before two other Great Developers; Heartland Development Group LTD in Milwaukee, WI and Ciara Realty of Lawrenceville, GA. I pray they each will show favor upon this project.
The City of Lawrenceville Planning and Zoning and the Gwinnett County Department of Transportation have come to know my face and my voice well since 2007. God has ordered my steps in preparation for This Season.
The Land for the JEHOVAH Shammah Dome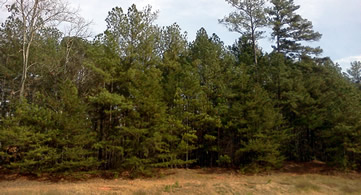 Ronald Reagan Parkway @ Bethesda Church Road, Lawrenceville, GA
On Wednesday morning, December 5, 2012, I was walking on my treadmill. I looked at the time and it read 3:53 minutes walked. I looked at the time, what I thought was a few minutes later, and it said 16:53. During my morning walks I sing to God. This morning during my Praise Walk God had taken me to eternity where time stops. When I opened my eyes 13 minutes later He said, "Ronald Reagan Parkway." That morning I got on the internet looking for Land For Sale on Ronald Reagan Parkway. I FOUND IT! The land pictured above is the Beautiful Green land on a Hill at the corner of Bethesda Church Road and Ronald Reagan Parkway. This 29 +/- acres sits in front of Bethesda Park and the Gwinnett Senior Center, Lawrenceville, GA, Gwinnett County. It sits in the "Heart" of Gwinnett County. The For Sale Price asked by Resource Real Estate Partners is $3,200,000.00. On Friday, December 7, 2012 I walked the land. As I walked I spoke Deut 11:24, Joshua 1:3 and Joshua 14:9 to God. I said, "Lord you said that everywhere my feet should trod, that will you give to me."
The JEHOVAH Shammah Dome will come to pass DEBT FREE, "not by might, nor by power but by my spirit saith the Lord." Zechariah 4:6.
On February 25, 2007, I was Commanded by the Word of God to Pay Full Price for the Land. (1 Chronicles 21:22-27). The Land will be Deeded to One Lord Teaching Ministry, Inc., a 501(c)(3).
Jeremiah 32:43-44 (NLT)
43. "Fields will again be bought and sold in this land about which you now say, 'It has been ravaged by the Babylonians, a land where people and animals have all disappeared.'
44. Yes, fields will once again be bought and sold - deeds signed and sealed and witnessed - in the land of Benjamin and here in Jerusalem in the towns of Judah and in the hill country, in the foothills of Judah and I the Negev, too. For someday I will restore prosperity to them. I, the Lord, have spoken."

Please Join the Vision.
Your Gifts will help build "Jehovah Shammah Dome"